SMM's "Marketing Minute" Monthly Newsletter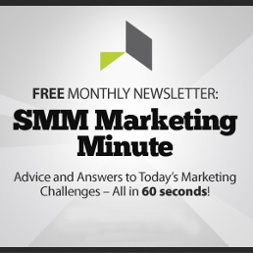 60 Seconds Of Information Impacting You And Our Fast-Forward Economy
Today's ever-increasing business demands are often made more difficult with the underlying changes in the way we market. Your time for exploring and understanding ideas is rare.
Each month, SMM's Marketing Minute will help you to:
Get a handle on current trends in marketing.
Delegate topics of interest to your marketing team.
Grow your business.
Understand topics requiring further research.
All in less than 60 seconds per month!