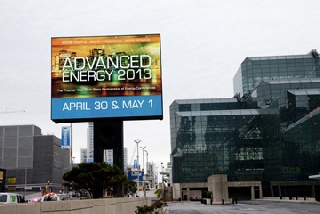 For the fifth consecutive year, SMM Advertising provided marketing, advertising and promotional support for Advanced Energy 2013, New York State's premier conference on advanced energy technologies and one of the largest events of its kind in America. Held on April 30th and May 1st at the Javits Center in NYC, Advanced Energy 2013 attracted 1661 attendees and over 80 exhibitors, primarily from the U.S. and Canada. The program featured keynote speakers Mayor Michael R. Bloomberg, Pulitzer Prize Winning Author Daniel Yergin, and leaders from DOE, DHS, New York State and private industry. The full conference agenda comprised 14 programs with over 90 individual sessions on energy research, policy, and financing, presented by 363 subject-matter experts.
SMM's promotional activities began early January, 2013 with the design and development of the conference website, the creation of sponsor recruitment materials, and the initiation of an email campaign to prior attendees and individuals with deep involvement in energy research and the energy industry. The email campaign continued through the winter and increased to a weekly frequency during the spring, as more details of the conference emerged. SMM also designed and produced the 48-page conference program, and all event signage.
Jim Smith, Stony Brook University's Assistant Vice President for Economic Development, was one of the principal organizers of Advanced Energy 2013. According to Smith: "SMM provided expert guidance and execution in our first experience with international advertising, which attracted representatives from 22 countries to our continually growing conference. They responded to the logistic challenges presented by New York's cavernous Javits Conference Center with a complex and innovative plan for exhibitor, presentation room, and attendee directional signage. And it is difficult to sufficiently express the appreciation of Stony Brook University and the Advanced Energy Center for SMM's rapid and professional handling of the conference program, which involved a myriad of last-minute additions and changes."
SMM President & CEO Charles MacLeod expressed his agency's commitment to the Advanced Energy Conference in saying that, "We consider advances in energy production and conservation to be critical to the future of our country and the economy of New York State. Therefore, we take great pride in our past support of the Advanced Energy Conference, and any contributions we have made to its continuing growth."
About Advanced Energy 2013
Advanced Energy 2013, and all prior Advanced Energy conferences, were produced by the Advanced Energy Research and Technology Center (AERTC) at Stony Brook University. A true partnership of academic and research institutions, energy providers and industrial corporations, the mission of AERTC is innovative energy research, education, and technology deployment, with a focus on efficiency, conservation, renewable energy, and nanotechnology applications for new and novel sources of energy. To find out about AEC 2013 please visit http://www.aertc.org/conference2013/.