SMM Advertising Develops Award-Winning Direct Marketing Campaign for Travelers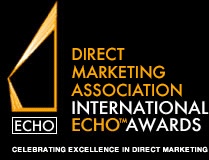 Travelers Insurance has won a prestigious industry award for a direct marketing campaign developed in part by Long Island ad agency SMM Advertising. Travelers received a 2012 Silver ECHO Award from the Direct Marketing Association, the world's largest trade association dedicated to advancing and protecting responsible data-driven marketing.
The winning campaign, Travelers' One2One Agent Utilization Campaign, targeted Travelers agents who were not already using the company's self-service direct marketing portal, as well as those using it but not taking advantage of all of its features. The portal enables agents to design, develop and implement direct mail campaigns from their desktop computers, with business-building solutions designed to give agents a competitive edge.
The direct marketing campaign helped Travelers effectively reach its more than 11,000 key agents with a multimedia campaign that demonstrated the ease and effectiveness of its self-service portal. The effort included several direct mail and email blasts, QR codes and links to podcasts, and an instructional booklet. SMM handled creative, production and fulfillment services for the direct mail portions of the campaign.
The campaign reportedly increased mail volume for Travelers more than 50 percent above the original goal.
The Travelers effort is among "the best and brightest direct marketing campaigns that not only set the bar for top achievements in creativity, strategy and results, but transport us to another plane of appreciation for their unfathomable talent," said Linda A. Wooley, Acting President and CEO of the Direct Marketing Association. "The campaigns honored by ECHO demonstrate superlative marketing strategy, exceptional insights into audience behavior, responsible use of data, inspirational creativity and overwhelming success."
"We are pleased that our work for Travelers has been recognized," said Charlie MacLeod, President and CEO of SMM Advertising. "It's the level of work that we strive to achieve on all assignments, whether or not it wins an award."