SMM Wins Two FOLIO Awards for Social Media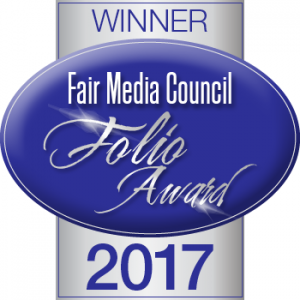 SMM Advertising has won two FOLIO awards given by The Fair Media Council. The awards, both for social media achievements, are for work SMM has conducted for clients at Stony Brook University's Center for Corporate Education (CCE) and Suffolk County's Department of Fire Rescue and Emergency Services (FRES). Both campaigns were judged based upon relevance, quality, originality and engagement.
The "Brand Builder" award for the CCE campaign was given as "Best Use of Social Media to Introduce an Organization's Brand to a Targeted Online Audience." That campaign helps to introduce CCE to a wide variety of potential students and corporations. For FRES, SMM won in the "Buzz Worthy" category for "A Notable Campaign that Sparked Interest From the Community." Recruiting valuable community volunteers to the Suffolk County fire and emergency medical services departments is a vital part of the FRES campaign.
"We are thrilled to receive this recognition from FMC", said Charlie MacLeod, SMM President. "Our team here at SMM works so hard to make our campaigns effective. I thank them very much and I also thank our great clients for their trust to execute social media content that works."  Both awards will be presented at the annual Folio Awards Luncheon to be held at the NYIT De Seversky Center in Old Westbury on March 28.