SMM Sponsors NSSA Golf Outing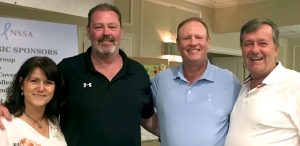 The Nassau Suffolk Services for Autism held its 21st Annual Golf Classic on September 23rd at The Old Westbury Golf and Country Club. Along with our client Winters Bros., SMM was a proud sponsor of the important event – all to help individuals with Autism Spectrum Disorders. A full day of golf, great food and meeting new friends was had by all!
Having some laughs together are Judy DeBiase and Charlie MacLeod of SMM Advertising, and Jimmy and Joe Winters of Winters Bros.