SMM Creates Innovative Sales Kiosk for Festo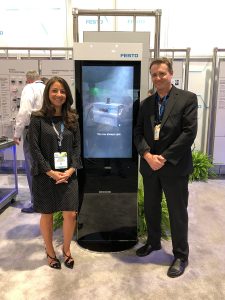 In an effort to support our client, Festo, with sales efforts during their many trade show appearances, SMM has designed and developed a unique, interactive touchscreen kiosk built to handle the job.
The display integrates dynamic CGI animation, videos, product information and data collection, all developed to seamlessly integrate with the "Stars of Automation" marketing campaign SMM recently completed for the company.
"This was an exciting project for SMM," said Bill Blaney, SMM's Creative Director, who was responsible for developing the concept and seeing it through to completion. "The interface is intuitive and lets visitors browse the full depth and breadth of Festo's Star products all in one place. Furthermore, in an attempt to make the most of this device, the kiosk was designed to act as a user-friendly standalone when not used by a salesperson."
The new touchscreen display was unveiled at Pack Expo 2019 in Las Vegas.
Pictured: Festo's Director of Marketing Communications – North America, Kristine Inserra, with SMM Advertising Creative Director, Bill Blaney, at Pack Expo 2019 in Las Vegas, NV.