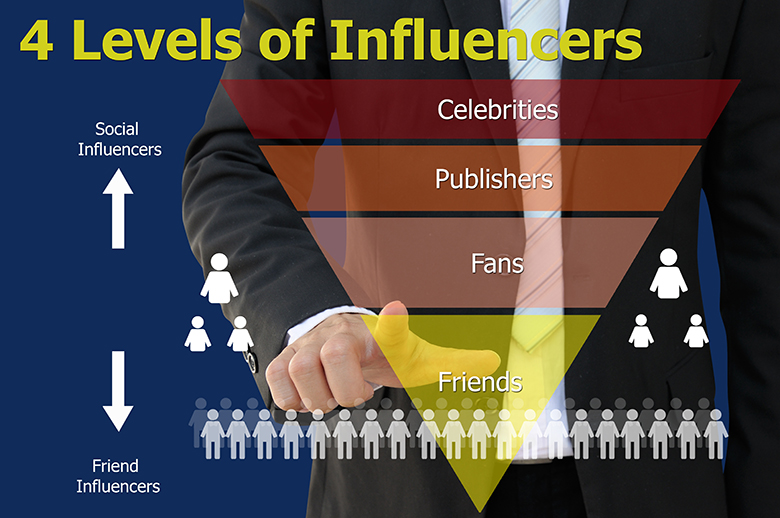 Word-of-mouth marketing is one of the most effective strategies a company can use, since consumers are inclined to buy products based on the recommendations of people they know and trust. But that trust is not limited to people consumers know personally: Influential people, from celebrities to experts in a specific field, can also garner the type of trust that inspires people to buy products.
As a result, influencer marketing is increasingly becoming a popular option for companies that want to increase sales, expand their social media reach, or attract more visitors to their website. If you're interested in adding the power of influencers to your marketing arsenal, the following tips can help you get started.
Find the right influencer. When looking for an influencer, you don't want to choose based on just audience size alone. You want to find someone who is creating content that is relevant to your brand and has the kind of followers you want to reach. In order to find the right person, you can use tools such as Hootsuite, Klout, Traackr, and Followerwonk to see a potential influencer's content, as well as likes, shares, and comments from their audience.
Build a relationship. It's a bad idea to ask an influencer to partner with you during the first interaction you have with them. Just as you would with other people you do business with, you should build a rapport with the person you want to represent your brand. This can be done by striking up conversations with them on social media, sharing their content with your audience, or making comments on their blog. As you get to know the influencer and have more personal contact, you can approach the subject of working together.
 
Decide what the influencer will do for you. There are several ways you can get help from an influencer, including having them write guest posts for your blog, review your products on their blog, or share your content with their social media audience. No matter which strategy you choose, be sure to communicate your expectations upfront.
Create mutual value. Some influencers do charge fees for their time, which can vary greatly depending on the platform they use and how big their following is. According to research conducted by Dummies.com, the range for bloggers can be $175 to $5,000 per post, while Instagram influencers receive between $75 and $3,000.
Although you can pay an influencer for their services, this is not the only value you may offer. Influencers may also be interested in getting content from you, gaining access to your audience, or receiving products for their time. How this value is created is also something you want to discuss before beginning your relationship with the influencer.
Define success and measure results. What do you hope to gain from your relationship with an influencer? Whether you want more social media followers, sales for a specific campaign, or hits on your blog or website, it's important to establish metrics for success and measure them.
If you're introducing new products, working with an influencer is a great way to attract customers and boost sales. But it's also a strategy for building a wonderful long-term relationship with someone in your industry—which can help you reap many benefits for years to come.