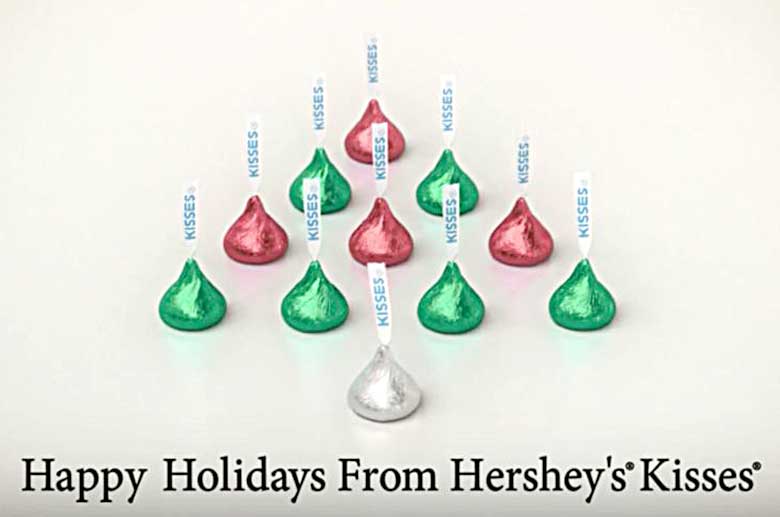 Hershey's kisses are a familiar sight around the holidays. Whether it be the red and green foiled wrapped chocolates that fill stockings, or the famous Christmas Bell TV commercial that has played during the holidays since 1989, Hershey's Kisses and Christmas just seem to go together perfectly.
Twenty seven years ago, Hershey's brand manager John Dunn was overseeing some potential TV spots and finished ahead of schedule. Instead of boarding a flight back to Pennsylvania, he asked their advertising firm, Ogilvy and Mather, to use the extra time to create a holiday themed ad. It was really just a fun experiment – something to bring the "Kisses" to the holidays. The result was the Christmas Bell commercial people see every year as a sign that Christmastime has finally arrived. That ad is actually Hershey's longest running commercial, which seems fitting for a company that has been producing everyone's favorite chocolate for over a century.
Hershey's has branded their "Kisses" in holiday packaging since the 1920's but the famous red and green foiled packaging wasn't introduced until 1962. During the rush of the holidays many companies roll out their special holiday advertising; Coca-Cola, Budweiser and Macy's are but a few popular holiday brands. And for Hershey's Kisses, once the holiday packaging and commercial are seen, consumers are colorfully reminded to bring a bag home to make their home feel like Christmas. For many households, Christmas decorating isn't complete until the Christmas Tree gets its tinsel, the lights start to blink, and Hershey's Kisses fill a plate on the coffee table.
Perhaps Dunn's Christmas commercial adds to the novelty of holiday themed Hershey's Kisses, or maybe it's because they just taste darn good – but either way, the next time you see those red and green foiled kisses ringing "We Wish You A Merry Christmas" on television, you can take delight in knowing that the spot's production was truly a last minute holiday rush.