---
Suffolk County's Department of Fire, Rescue and Emergency Services (FRES) found its base of volunteers shrinking. FRES needed a fresh and integrated campaign to attract new firefighters and EMTs for the county's 130+ volunteer agencies.
---
What does it take to be a volunteer firefighter and EMT? We needed to find the market for a unique group of people. Courageous people. Committed people. In short, we were looking for heroes of varying ages and psychographics. We discovered they are truly heroes - heroes who do amazing work. This led to the driving message of the campaign; a call to arms to move these potential heroes into action:

A Campaign to Illustrate Their Heroism
---
Our strategy was to position our audience not as the potential volunteers they are but as the heroes they aspire to be. What better way to deliver that message than to illustrate FRES volunteers as a form of superheroes coming to save the day?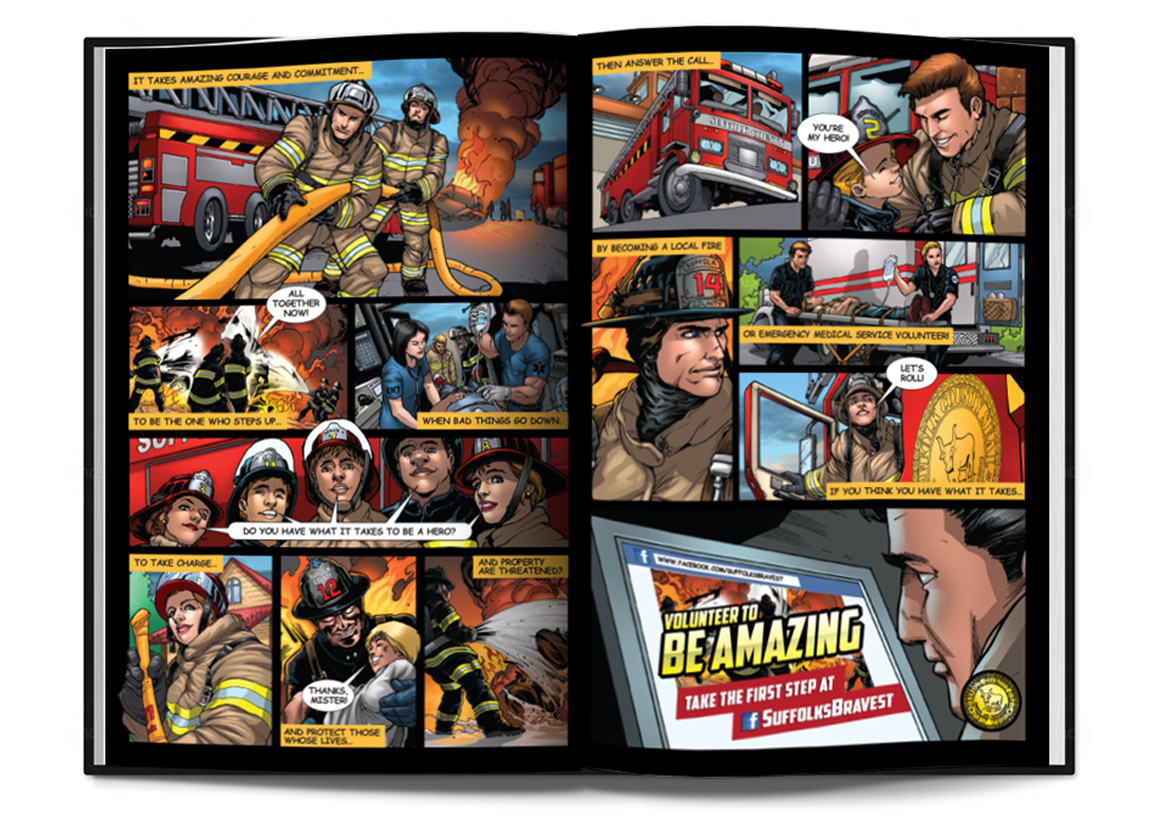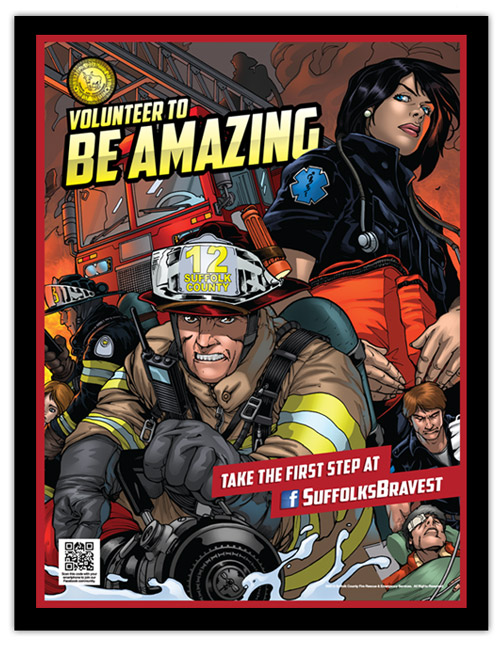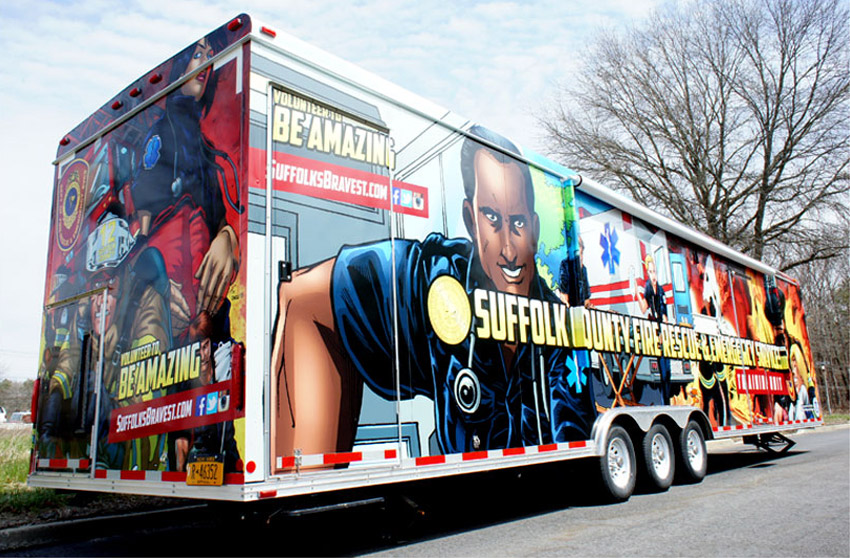 A Multi-Media Campaign that Needed Something For Everyone
---
Using comic book illustrations, we developed a fully integrated ad campaign across several mediums, from print ads to posters to county bus wraps. An e-mail campaign was sent to individuals who had expressed interest in volunteer services, complemented by a digital platform celebrating "Suffolk's Bravest." We also produced broadcast spots, which launched on a selection of youth-popular networks, including ESPN, Comedy Central, Pandora and others.
A Super-Powerful Social Campaign
---
The ads and commercials were adapted for use on the "Suffolk's Bravest" Facebook page. By building FRES's social media presence, we were able to cast a much wider net and reach a more targeted audience.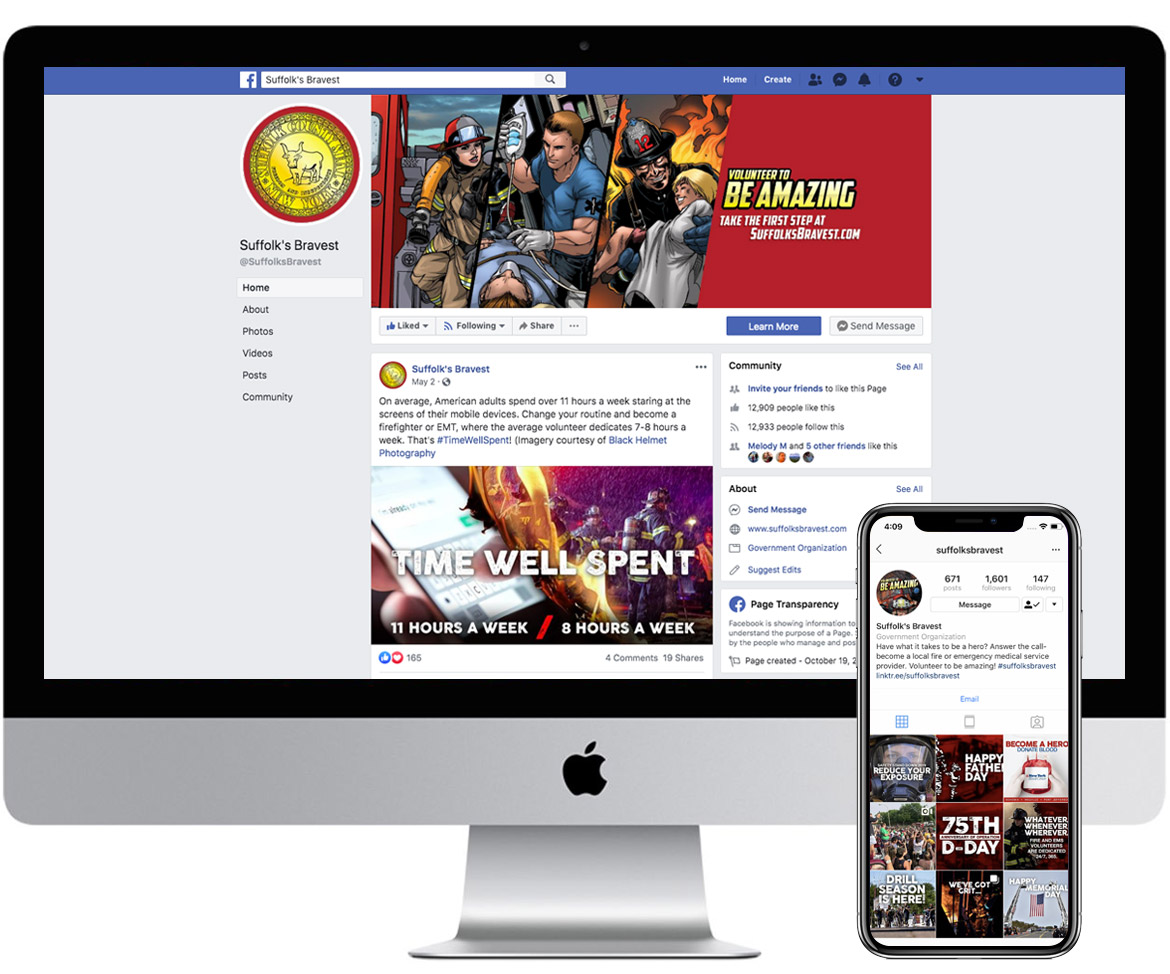 ---
The campaign has helped to bring in more than 3,000 new volunteer recruits countywide and increased the total number of recruit referrals to 5,230 by the end of 2017. FRES also experienced a 260% increase in Facebook fans to 7,509. As a result of the added number of volunteers on call, the county experienced a 30-second decrease in call response times, a 37% decrease in property loss and a 28% decrease in civilian casualties.
The campaign won national acclaim and awards—including two 2017 Tellys, a 2017 FOLIO, plus multiple PromaxBDAs and a Communicator Award from the International Academy of Visual Arts.
---
So did others—from national and regional marketing competitions to digital and social media honors for excellence—SMM has won many awards with our clients. Here are a few recent winners that honor our client's businesses and the excellence we have accomplished together.